At ContactZilla, our premise is all about making contacts accessible for you and your business.  To make your life even easier, we're constantly thinking of new ways to make ContactZilla an easy to use, indispensible tool, but most importantly simple.  For us, the best things are simple.
We've got big plans and a busy development schedule, so over the coming months you can expect to see some small changes, that make a significant difference to your experience with ContactZilla.
We're kicking this off with the de-duplicating function. You may have realised after importing your contacts from multiple sources, you've ended up with thousands of contacts in your address book, many of which are duplicates.  Well, we've added a nifty feature that intelligently suggests duplicates based on first name and last name.
Just under your username (top left of your screen), you'll find an alert that says 'We have found XXX potential duplicates.  De-duplicate'.  Hit 'de-duplicate' and the magic happens.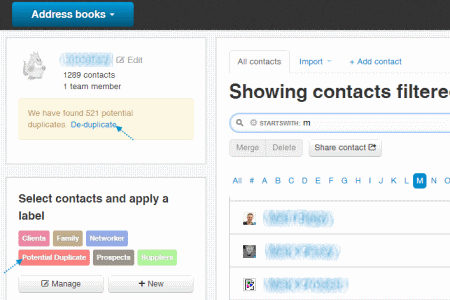 We've also added a 'Potential Duplicate' tag, as highlighted above, so you can you manually tag contacts as duplicates.
Then, using the 'filter by label' drop-down menu, you can see all the contacts that have been flagged as duplicates.  You can then choose to merge or delete those contacts.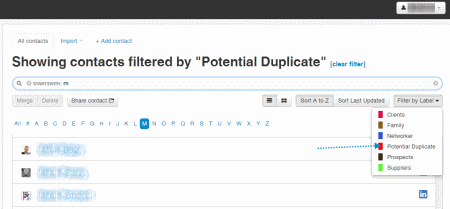 Merging is simple and it feels good.  So, go on, purge yourself of all those duplicates and tidy up your contacts.
Got any feedback?  Share your thoughts about these new features on our QA site.