Until now, ContactZilla has been available on all your desktop devices.  We've been working on some nifty development allowing ContactZilla to be synced via cardDAV with your mobile devices. Now you can get all your ContactZilla contacts on the move – anytime, anywhere.
Your contacts, anywhere
ZillaSync, the name we've fondly given the feature, is awesome for people who work on the go or when you need a contact out and about.  Ideal for sales people on the road, at client meetings or out with friends.  You'll always have all your contacts and address books with you wherever you go.
Team members can sync with your shared address books too
ZillaSync also works with other team members of your ContactZilla.  So, whoever has access to your address books can also get access to them on the go.  They simply need to sync their phone and voila, they have access too.
Sync one, sync many
With ZillaSync, you can choose to sync all your address books or just the ones you use most.  So if you have work, teams and family based address books, you can sync just the ones you're most likely to need when you're out and about.
Automatic syncing
New contacts are automatically updated to your mobile device.  So there's no need to manually sync your device every time you update your ContactZilla address book.
Complete control over sharing
Like with ContactZilla, you still have complete control over who can see the contacts in your address book.  You can change or update the information you share when you're logged in to ContactZilla.  Just go to your shared address book and add or delete team members.
If you delete members of the team from ContactZilla, your contacts will automatically be removed from their mobile device.  If you add members, they can then add your address book to their contacts on their mobile device.
iOS on iPhones and iPads support cardDAV here's how to set it up
Adding your ContactZilla address books to your mobile device is easy.  At the moment, we support iOS devices, including iPhone, iPhone Touch and iPad.
Here's how to add ZillaSync:
1.  Go to your Settings and select 'Mail, Contacts, Calendars'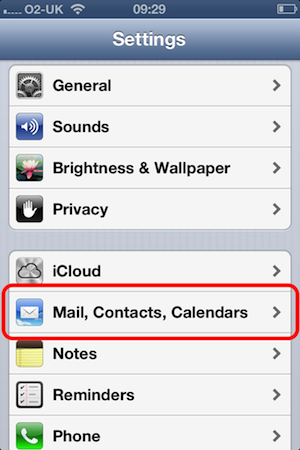 2.  Select 'Add Account…'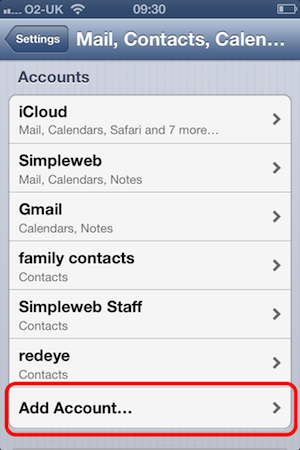 3.  Select 'Other' from the bottom of the list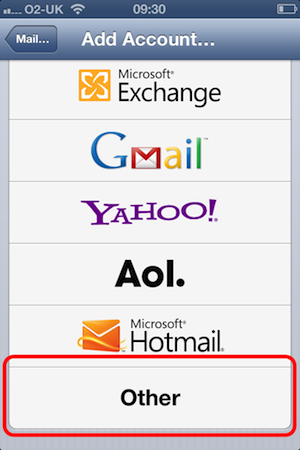 4.  Then select 'Add CardDAV Account'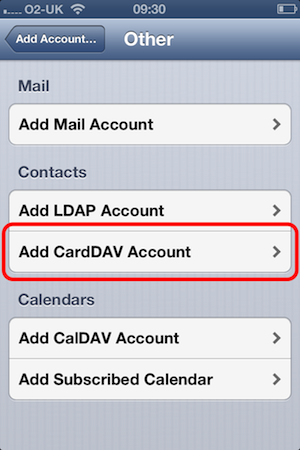 5.  Enter the following information:
Server: enter the URL of the ContactZilla address book you wish to sync.  Don't include the https:// part (e.g.  family-contacts.contactzilla.wpengine.com)
Username: this is your ContactZilla username (if you don't what this is, you can find it in 'Settings' when you are logged in to ContactZilla)
Password: this is your ContactZilla password
Description: add a description of your address book (e.g Family contacts)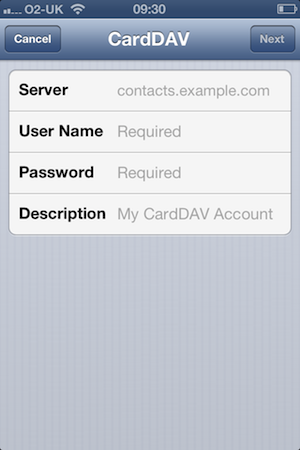 6.  Click 'Done'.  The sync may take a few minutes.
Viewing your contacts on your iOS device
The contacts from your synced address book will now appear in your iPhone or iPad contacts.  Once your contacts are synced, you can view them by clicking on 'Groups' within your Contacts.  Then select the desired address book.
ContactZilla: constantly improving
ZillaSync is in beta.  If you encounter any bugs or issues, let us know.
We currently support iOS.  With Android, you'll need a CardDAV client (available as an app from Google Play) which will allow you to sync contacts. It's looking more and more likely that CardDAV will become native on Android and Windows Mobile and Blackberry 10 soon. We'll be waiting for them...
Keep watching this space.