A while ago we introduced the concept of "smart labels" to Contactzilla, originally as a "potential duplicates" label. Whenever Contactzilla "thought" that a contact maybe a duplicate of another it would label it "potential duplicate", you could then just show these contacts and merge them, delete them; whatever action you thought best. This functionality is now improved making it even easier to tidy up your contacts.
We've now expanded on this functionality with two new smart labels that let you display contacts that do not have any email addresses and any phone numbers. The two smart labels can be used individually or combined to tidy up contacts easily.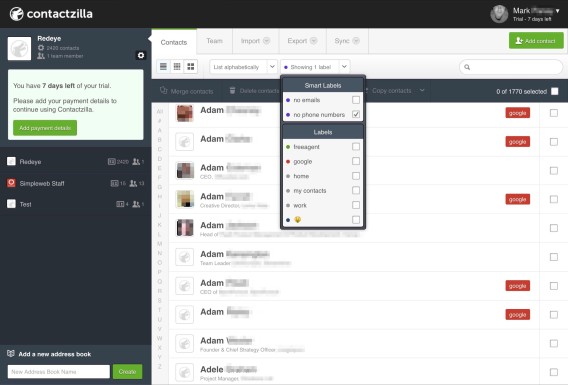 Why would I want to use these you ask? Well, when you've had an address book for a while, especially if a few people have been collaborating on it, you will find that you have "phantom" contacts which have become useless. These contacts usually have no email address or numbers. Using these two new smart labels you can display them really quickly, select them all and then delete them. The whole process takes about 10 seconds. The contacts will then sync back to the rest of your team and their devices (iPhones, tablets, etc).
It's one of those little features that we've had a lot of requests for, that just takes so much time to do manually. Well here it is, I hope it saves you as much time as it has me. Any other smart labels you'd like? Let us know - support@contactzilla.com