We've been busy pushing another release. We've had a few issues with the importers lately for various reasons. We've increased the reliability of them and added some extra functionality to some of them.
A quick overview of what's new:
Improved stability of importing
Improved data pulled back from certain importers
Labels get added to contacts automatically labeling the import method for contact
Minor bug fixes
LinkedIn Importer
The LinkedIn importer now brings back a lot more information than it did before and the profile links now work as expected. You will find full work and education history imported which makes a big difference to the depth of information for a contact.
Contacts getting auto labelling on import
When importing contacts, they now automatically get labelled with the name of the network they are being imported from. So an import from Twitter, labels all of those contacts imported with "twitter". This appears to a be small feature but it gives a lot of power in copying, filtering and generally organising your contacts.
[caption id="attachment_476" align="alignnone" width="568"]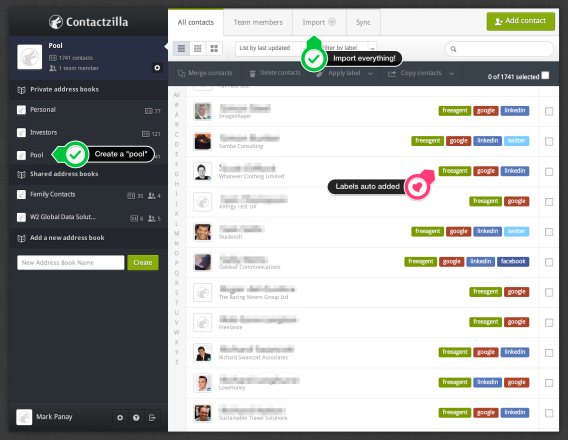 Auto labelling imported contacts[/caption]