We're always on the lookout for hacks, tips and tricks that can help us concentrate and be more productive. Here are 5 of our favorite web and mobile apps that will help you become focused and get more done.
1. Focus@Will
Studies have shown that listening to music while you work can make you more productive. If you're anything like me, you might find that certain types of music can help or hinder your work (I find music with lyrics distracting while I'm writing for example).
Focus@Will is a music streaming app that aims to help you become up to 400% more productive. Most people are only able to concentrate for around 100 minutes before they need a break. Focus@Will chooses which music to play depending on where you are in your 100 minute concentration cycle. The music aims to get you into your concentration flow and keep you there.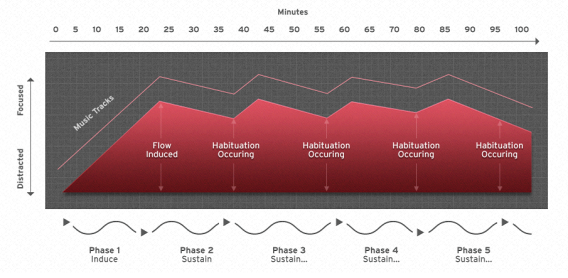 Use Focus@Will in your browser or download the iOS or Android app to listen on your mobile device. With a limited free version and only $2.99/month for full access, Focus@Will is ideal for those who love to listen to music while they work.
2. It's Focus Time!
As I've mentioned before, I'm a fan of the Pomodoro Technique where you work on a task for 25 minutes, followed by a 5 minute break. You can read more about the Pomodoro Technique here.
It's Focus Time! is an iOS and Android app that helps you apply the Pomodoro Technique to your work. It's Focus Time! sets alarms to signal the end of each session and keeps track of all your progress so you can see how you're becoming more productive. It's Focus Time! is only 99c in the App Store and well worth a shot if you're thinking of trying out the Pomodoro Technique.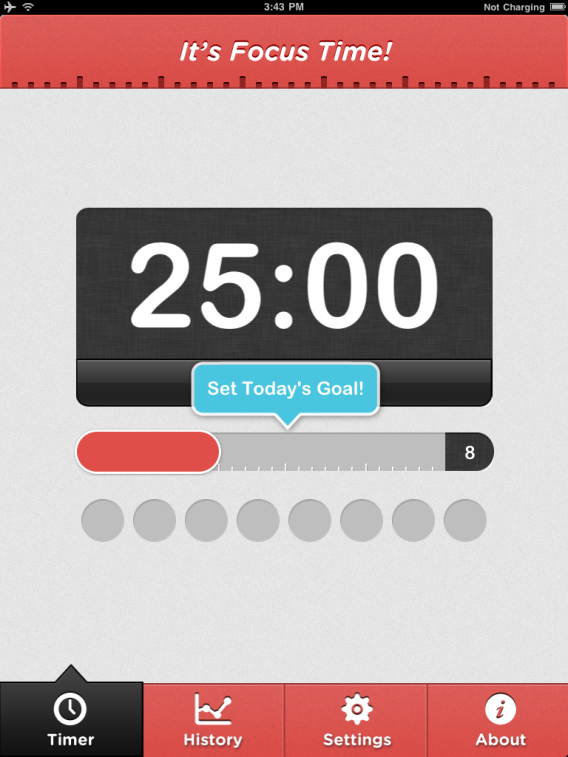 Want something on your desktop? Try the It's Focus Time! free web app to time your sessions and set alarms for break times.
3. RescueTime
If you want to get better at focusing on the task in hand, it might be a good idea to measure how you're doing at the moment. How much time are you wasting? How long do you spend in meetings or checking your emails? Once you know where you're going wrong you can start to make it right.
RescueTime, which can be run on Mac, PC, Linux and Android, helps you to understand how you're spending your time on a day to day basis. You can even set alerts to tell you when you've spent a certain amount of time on a task and use the app to block distracting sites like Facebook when you're trying to work.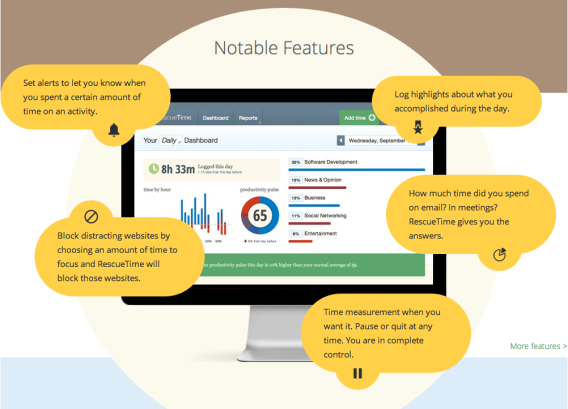 The free version of RescueTime allows you to track your time and set targets but to get the full benefits you're going to have to shell out $9/month. If you're just looking for a way to block sites that distract you, try StayFocused for Chrome or LeechBlock for Firefox.
4. Lumosity
I like to think of my mind as a muscle. If you want to build up a muscle what do you do? You exercise it. Want to train your mind to focus? Why not exercise it?
Lumosity is a brain training program with 45 million members who can create their own personalized brain training program to help them improve their memory and attention. Lumosity's exercises have been developed by neuroscientists and tested by researchers who have measured improvements in cognitive functions after training.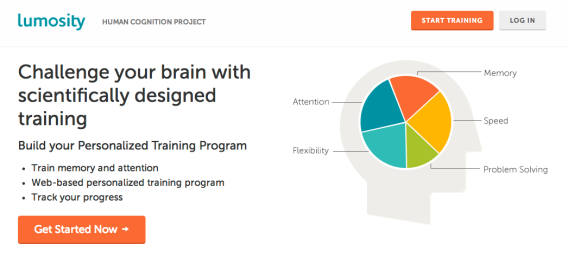 The Lumosity mobile app is currently only available on iOS devices but the web version is compatible in all browsers.
At £10.49/month, Lumosity isn't cheap, but it is a beautiful, well researched app, perfect for those who are serious about brain training.
5. Quiet
Ideally, we'd be able to do all our work in one window with nothing to distract us. Unfortunately, this usually isn't the case. Right now I have 5 tabs open as well as Twitter, Campfire and Airmail. Even the little red update notification from the Mac App store is staring at me while I'm trying to work.
I could close all these apps but I'm not going to. It's much easier to keep them running in the background than having to open them every time I need to check something. So how do I stop them distracting me? Well (of course) there's an app for that.
Quiet is a Mac app that blurs out everything you have running in the background, telling your chat system you're "busy" or "away" and setting Skype to "Do Not Disturb" so you can finally get that moment of peace you need to get your work done.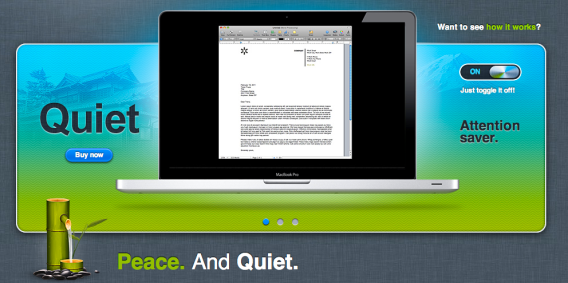 Unfortunately, there's nothing quite like Quiet available for PC users. You could try Dropcloth, an open source application that blacks out your desktop and running applications to prevent distractions. Writers could try FocusWriter, a great app to provide a distraction free writing environment.
What apps do you use to help you focus?